It's time for our first case on the history of American slavery, featuring the bizarre legal and moral mess that allowed black Africans fighting for their freedom to be accused of kidnapping themselves.
Featured image: La Amistad off the coast of Long Island, New York. The ship in the background is the USS Washington. (Image source)
Links to sources, scholars, and projects mentioned in this episode
Images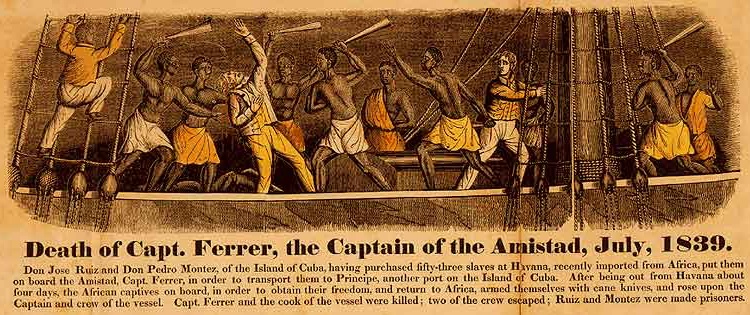 The frontispiece of John Warner Barber's A History of the Amistad Captives, published in 1840. I'm having a bit of trouble finding any information on Barber's sympathies here, but this doesn't seem to be a particularly sympathetic portrayal of Sengbe Pieh/Joseph Cinqué. (Image source)
Another contemporary portrait of Cinqué, which appeared in The Sun in 1939 during his time in prison. This is a much kinder portrayal, referring to him as a brave chief who dared for freedom, and even reproducing a speech in which he asks his comrades to spare the young man who had been kind to them. The Sun was famous for being among the first newspapers to report on the lives, deaths, and crimes of ordinary people, not just politics and the behavior of the elite. (Image source)
A portrait of Sengbe Pieh by Nathaniel Jocelyn. Jocelyn was an abolitionist; he and his brother Simeon were part of the group that helped Cinqué find a legal defense. He's chosen to paint Cinqué here as a chief in his own land, not as a captive in America. (Image source)
The trailer for Steven Spielberg's Amistad (1997). Notice the focus on the courtroom drama and the framing of John Quincy Adams, rather than the Mende captives, as the protagonist.